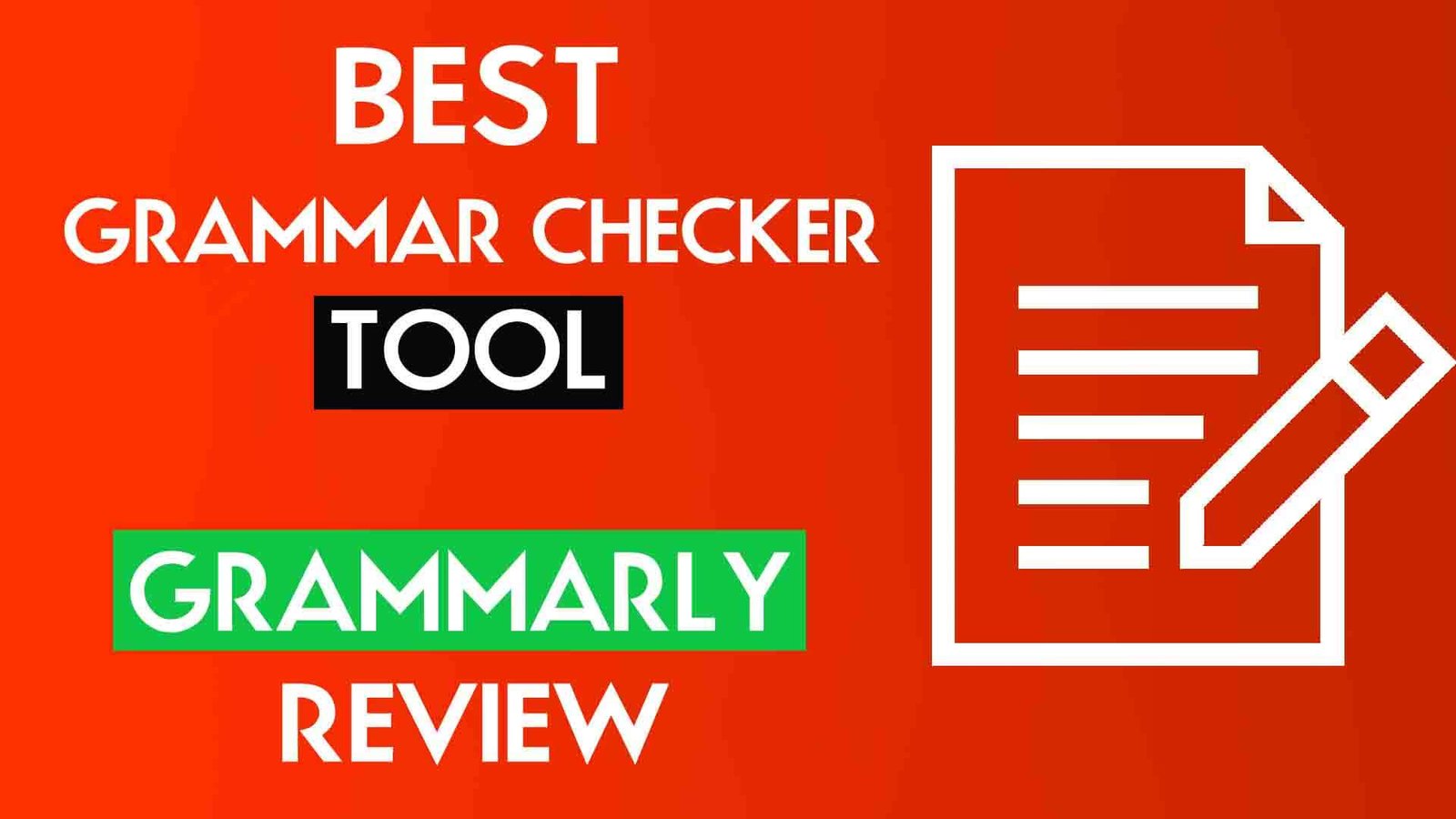 Do you want to make your content writing a little easier and grammar error free? Then read this detailed Grammarly review, and find out is this the best grammar checker tool for your content writing or not.
If you are a content writer or blogger then you must know that how much grammar is important for content.
I also make too many grammar and spelling mistakes while writing content for my blog post. But one day I found this tool Grammarly, which is become a lifesaver for me.
I use this tool for each article I write to make sure that my article is grammar error free. And, by the end of this Grammarly review, you'll also know why this is a must tool for writers and bloggers.
What is Grammarly And How It Can Help You For Writing Awesome Content for Your blog?
At the end of the day, blogging is all about creating awesome content, isn't it?
But, grammar and spellings mistakes make a bad impact on any content. No one is going to read your content if it has too many grammars and spelling errors, no matter how much information you gave on that article.
And, here comes the role of Grammarly.
Grammarly is an online AI-powered grammar checker tool. This tool allows you to check grammar and spelling mistakes in real time. It automatically detects grammar issues and fixes the issues in real time.
Here are some of the core features of Grammarly:-
Check and fix the grammar and punctuation errors in real time.
Fix spelling mistakes.
Human proofreading.
Checks plagiarism.
Helps to improve writing style.
How To Use Grammarly? [A Detailed Guide]
You can use Grammarly in two ways. Either by using their plugin or in their web app.
They have two plugin options:-
Extension for browsers.
Plugin for Microsoft word.
But Grammarly extension only supports in Chrome, Safari, Firefox, and Edge.
How To Use Grammarly Extension in Chrome?
It's super easy to install and use Grammarly extension on chrome.
Go to Chrome web store, and search for "Grammarly" and install the first extension name as "Grammarly for chrome".
After that, Register your free Grammarly account and activate the extension. If you don't register your account you'll miss out some awesome free features.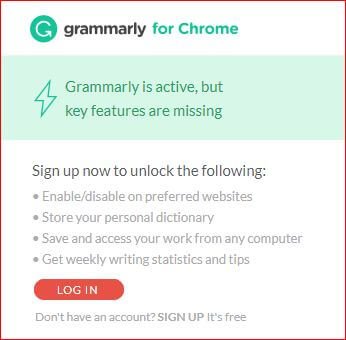 After doing all of these, you're good to go.
Now, You can see in that picture below that, I'm getting a red line below of some words that have some grammar and spelling mistakes. And when I point my mouse over that word it shows me the correct spelling of that word.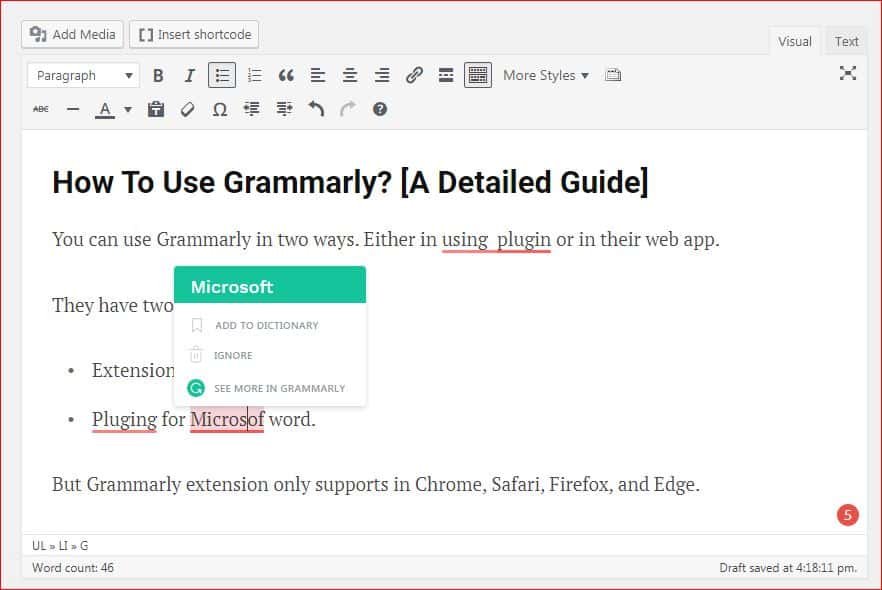 That's how you can use Grammarly extension to make sure that your content is grammar error free.
The process for other browsers like Safari, Firefox, and Edge is similar to this.
How To Use Grammarly In Microsoft Word?
So, the first step is to login in your Grammarly account.
After you logged in, click on the "APPS" section on the sidebar and install the app called "Grammarly for Microsoft office".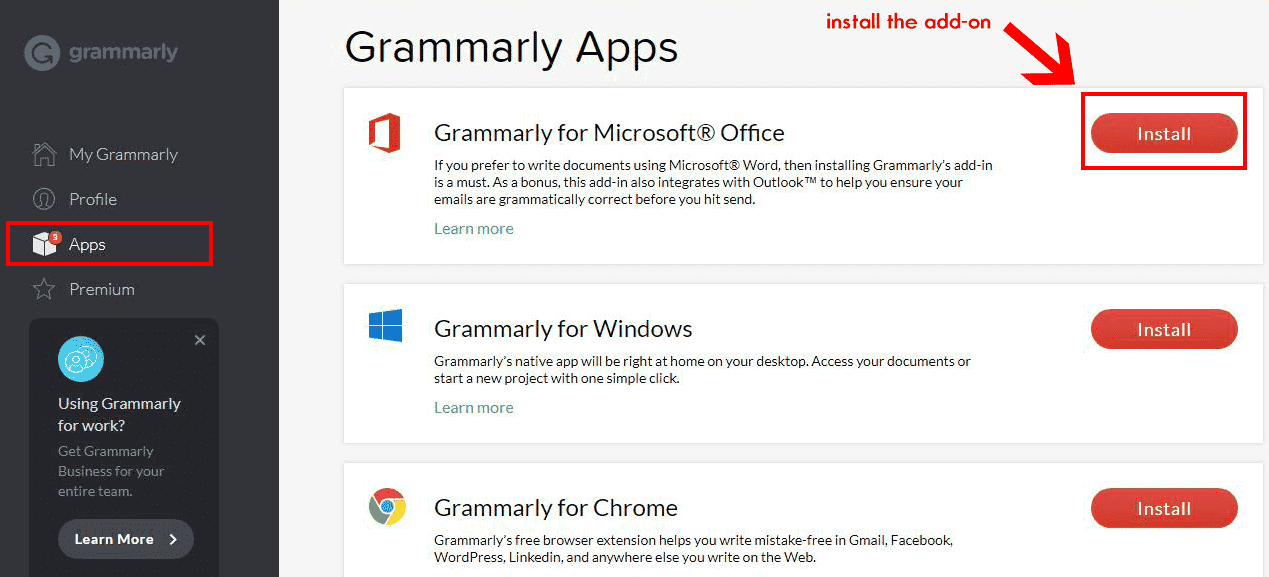 After downloading, install the add-on and follow these steps below.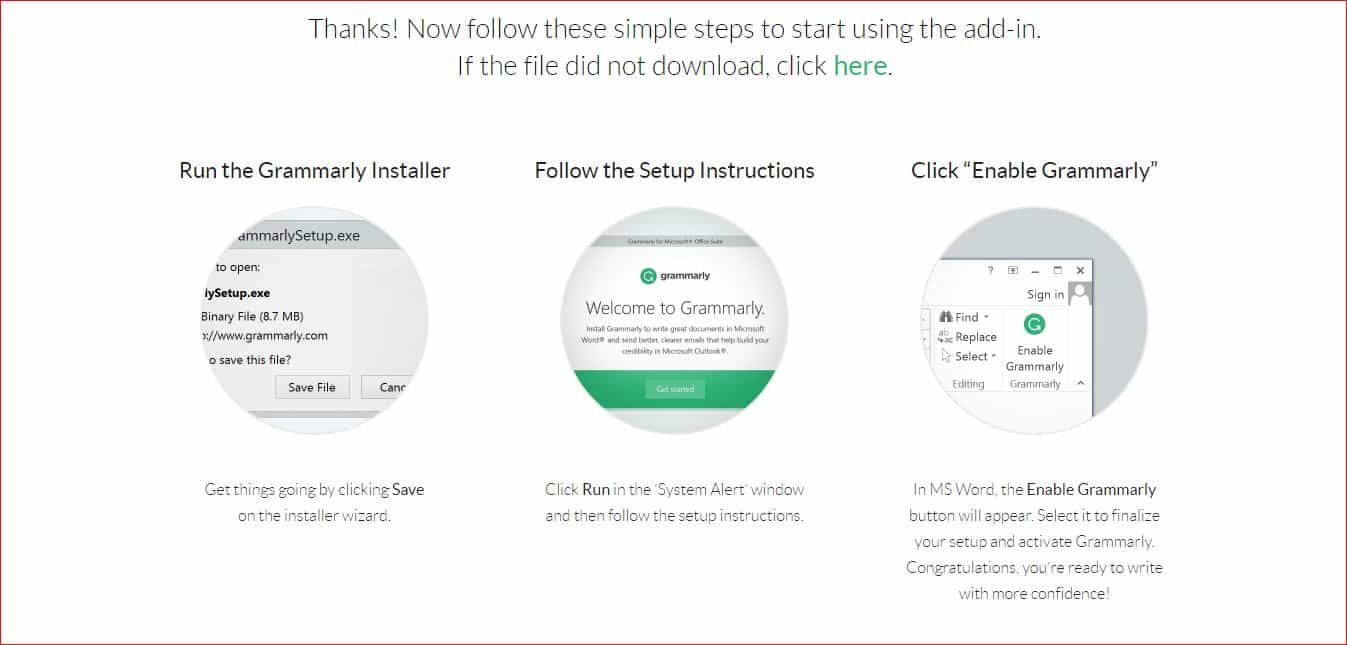 Now, go to MS Word you will see a button "Enable Grammarly" click on that button and activate the Grammarly.
Now you can use Grammarly on MS Word.
How To Use Grammarly Online Web App Editor?
Login to your Grammarly account and click on "New" to create a new document.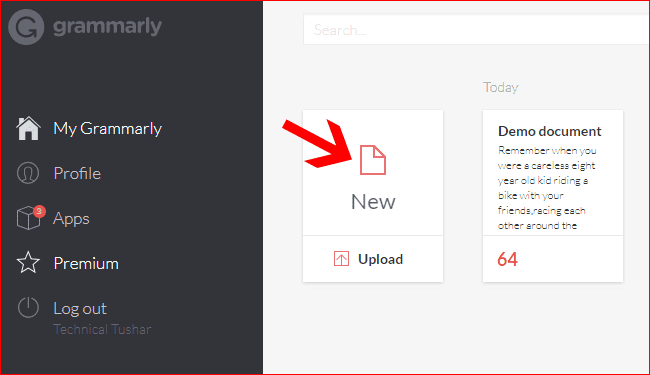 After that, type in your content or simply copy and paste the text on that document.
As you can see now, I'm getting red lines below of some texts. This red line indicates that the text has some issue. The issues could be grammar error, spelling error or pronunciation problem.
And when I simply point my mouse on that red line, Grammarly shows me a little description about where the problem is, and also suggest a replacement for that word.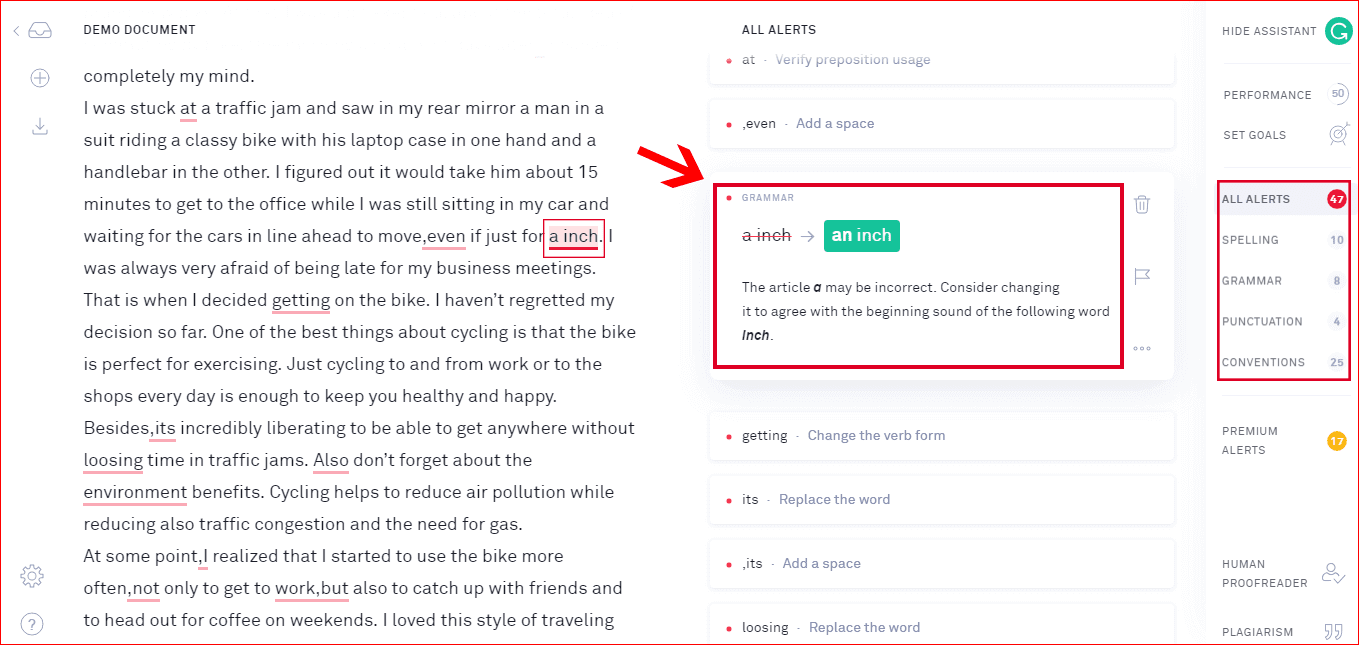 You will get more awesome features such as Human proofreader, Plagiarism checker and advanced grammar checker on Grammarly premium.
How Much Does Grammarly Premium Cost?
Grammarly has two versions, a free and a paid version. The paid version is called Grammarly premium.
You can buy Grammarly premium as monthly, quarterly and annually. Let's see what is the difference between these plans.
The monthly plan costs $29.95/ month.
The quarterly plan costs $19.98/ month. You'll save $30 if you buy the quarterly plan.
The annual plan costs $11.66/ month. You'll save $219 if you buy the annual plan.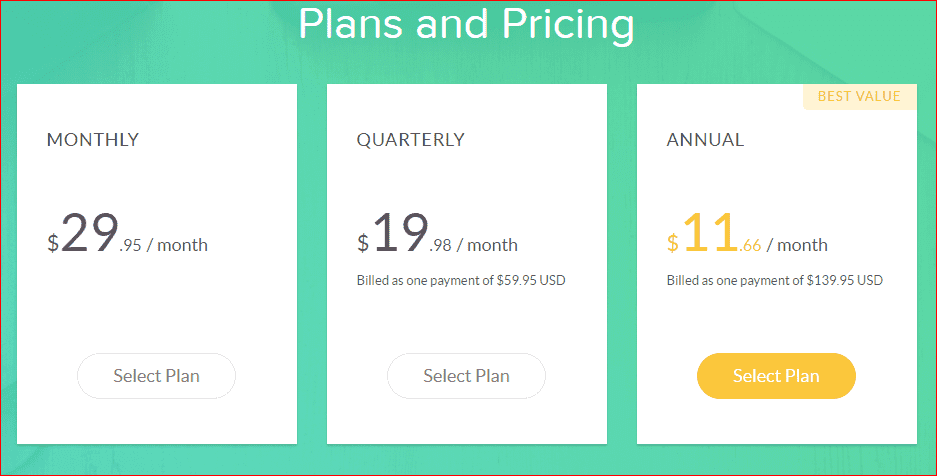 If you are really serious about writing and you write a lot then you should consider buying the Grammarly premium.
But, I defiantly recommend you to first try out the free version of Grammarly before buying the premium version.
You must read:- Awesome Freelance websites to make money as a writer
Is Grammarly Premium Worth it?
Definitely yes, if you write a lot and make money from your writing then you can consider buying the Grammarly premium. Grammarly premium has lots of advanced features which can help you to write faster and error free.
If you are a writer or blogger who writes a lot then this tool can save lots of your time. Grammarly premium has lots of important features which can be beneficial for anyone who is in writing profession such as writers, content creators, bloggers and also it is really beneficial for students who wants to improve their grammar.
As I said earlier, check out and use the free version of Grammarly first and then once you are familiar with the tool then buy the Grammarly premium. 
Is Grammarly Safe?
No, it is not 100% safe. As it is operated over the internet Grammarly does not assure 100% privacy for the content we write on their site.
If you write basic things like a blog post, ebook, any kind of content then it is okay for you. However, I don't suggest you to write any legal writing or anything which is related to your companies security.
Lots of bloggers and writers are using Grammarly for years and they don't find any privacy-related issues till now including me.
You must read this:- List of high paying affiliate programs for bloggers
Grammarly Free Vs Grammarly Premium Which one is better?
Grammarly offers a free and a premium version. The free version offers:-
Check and fix the grammar issues.
Check and fix the spelling mistakes.
Grammarly premium offers:-
Check and fix grammar and spelling mistakes.
Suggestion for vocabulary enhancement.
Improve writing style.
checks plagiarism.
Advanced grammar and pronunciation issues.
You can also see the difference between Grammarly free and Grammarly premium side by side.
Grammarly Can Be Used Offline?
No, Grammarly can't be used offline. Grammarly is an online application so you can't use Grammarly offline.
You need to have an internet connection to use Grammarly because of Grammarly analyze and give suggestion to your text through their database.
You must read this:- Top high pr directory submission sites list
Can You Use Grammarly On Mobile Devices?
Yes, you can use Grammarly on mobile devices. Grammarly keyboard is now available on Android and Ios. So, now you can write anything on a mobile device without any grammar and spelling errors.
Final Thoughts About Grammarly
I know after reading this in-depth Grammarly review most of your doubts are clear about Grammarly.
Still, I want to share my thoughts about Grammarly with you.
Grammarly is a tool that I used from day one when started my blogging, and it helped me a lot on my writing.
I used to make soo many grammar mistakes.
But thanks to this tool, by the help of Grammarly my mistakes are decreasing day by day.
Try Grammarly once I'm pretty sure you'll love this tool.
And if your profession is writing-related then you can consider buying the Grammarly premium which will give you a lot of advanced features to make your writing errorproof.
Do you have any grammar tool better then Grammarly?
Did you find this Grammarly review useful? Share your thoughts about this Grammarly review in the comment section below, because I'm excited to hear about your thoughts about this tool.
Must Read:- High DA blog commenting sites
How to find high CPC keywords for Adsense