Are you looking for a best WordPress cache plugin which can speed up your website?
Well, you're in the right place. Because in this detailed WP rocket review, I will show you how you can use WP Rocket WordPress plugin to reduce your website load time.
I've been using this plugin from the past two months and I saw that my website page speed reduced by 2 seconds and it also reduced the page size by 200kb.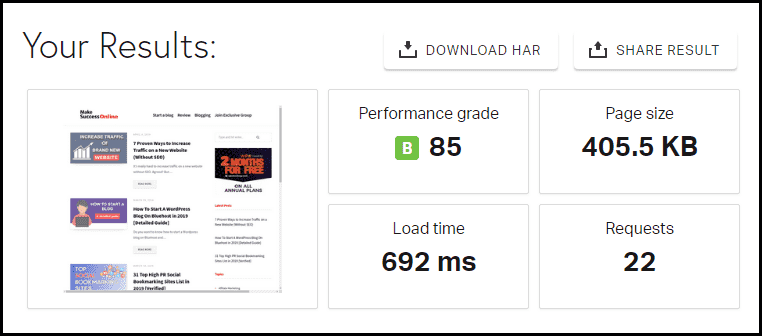 And here is my google page speed score on desktop version after installing the plugin:

And in the mobile version:

So, Let's see you can also use wp-rocket to speed up your website.
We will also discuss the pros and cons of wp rocket and also see the features of this plugin.
Why you need a good cache plugin?
Almost 40% of the users abandon a website if it takes more than 3 seconds to load.
That's almost 40% of the revenue loss.
I know no one wants a 40% revenue loss in their business.
Page speed is also a Google ranking factor. So, if you want to rank higher on google then you must need a high-speed website.
And, if you want to improve your website loading speed then you need a cache plugin. A good WordPress cache plugin can make your site extremely fast.
Cache plugin creates a copy of static files of your website and stores them, and when a user comes into your website it directly serves from the cache file before reaching the database and that's why websites load super fast.
A cache plugin is very important for any WordPress website as it helps to reduce the page load time.
Features Of WP Rocket
WP Rocket is not just a simple cache plugin it is a speed booster loaded with all the possible features which can speed up your website.
Over 700,000 websites are using WP Rocket to optimize their sites.
You'll get features like:
Separate caching for mobile devices to speed up the site for mobile devices
Minify HTML, CSS and Javascript files
Combine CSS and Javascript
Lazy load for images and videos
Disable emoji loading from WordPress
Database optimization and cleanup
If you have a CDN then you can connect your CDN to WP Rocket
One click add ons
You can remove query strings from static resources
Optimize CSS delivery to eliminates the render blocking CSS
Load Javascript deferred eliminates the render blocking javascript
Disable Cache for a particular page
Disable minification of HTML, CSS and Javascript for a particular page or post
At the time you install this plugin this automatically detects and implements the optimization according to your website need. You can check your website loading speed before and after installing the plugin then you can see the results.
Still, you can enable more features and optimize your site according to your need in the WP Rocket settings.
If you're using Cloudflare or any CDN services then you can configure WP Rocket with Cloudflare in just one click.
And, You don't have to install plugins for lazy load images or database cleanup, as you'll get all of these features in WP Rocket.
WP Rocket is also compatible with the WooCommerce plugin.
WP Rocket Configuration (Recommended settings)
WP Rocket implements the best optimization options for your site at the time you install the plugin. Still, if you want to make your site load more faster then you can configure it manually.
But, wait before configuring it manually you need to find out which options are good for your website.
You also have look out if your site is getting broke while configuring it.
I will explain to you all the settings of WP Rocket which will help you to load your site faster.
First, go to the dashboard of WP Rocket plugin.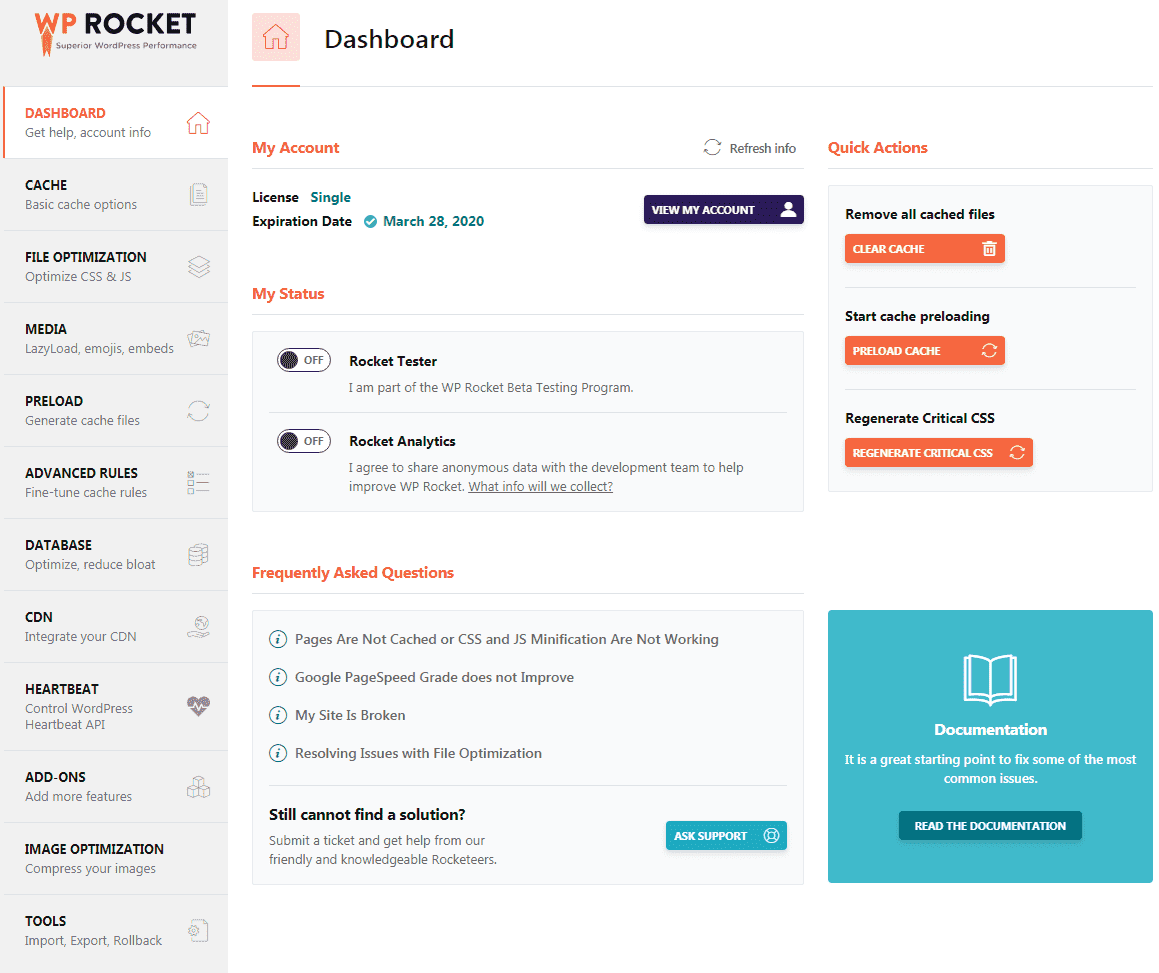 Here you'll get all the settings on the sidebar. Let's explore these settings one by one.
Cache options:
Mobile Cache – enable caching for mobile devices as it will make your website fast on mobile devices. You can also create separate cache files for mobile devices.
User Cache – Don't enable the caching for logged-in WordPress users.
Cache lifespan – You can also specify the time for the cache to be cleared automatically. But, I would definitely prefer you to leave it at 10 hours and click on save changes.
Now let's go to the second step which is File optimization.
File Optimization:
File optimization is a really crucial part and you have to be very careful while optimizing it, as it can also break your site. It helps to minify and combine HTML, CSS and Javascript to reduce the size of the files and load more faster.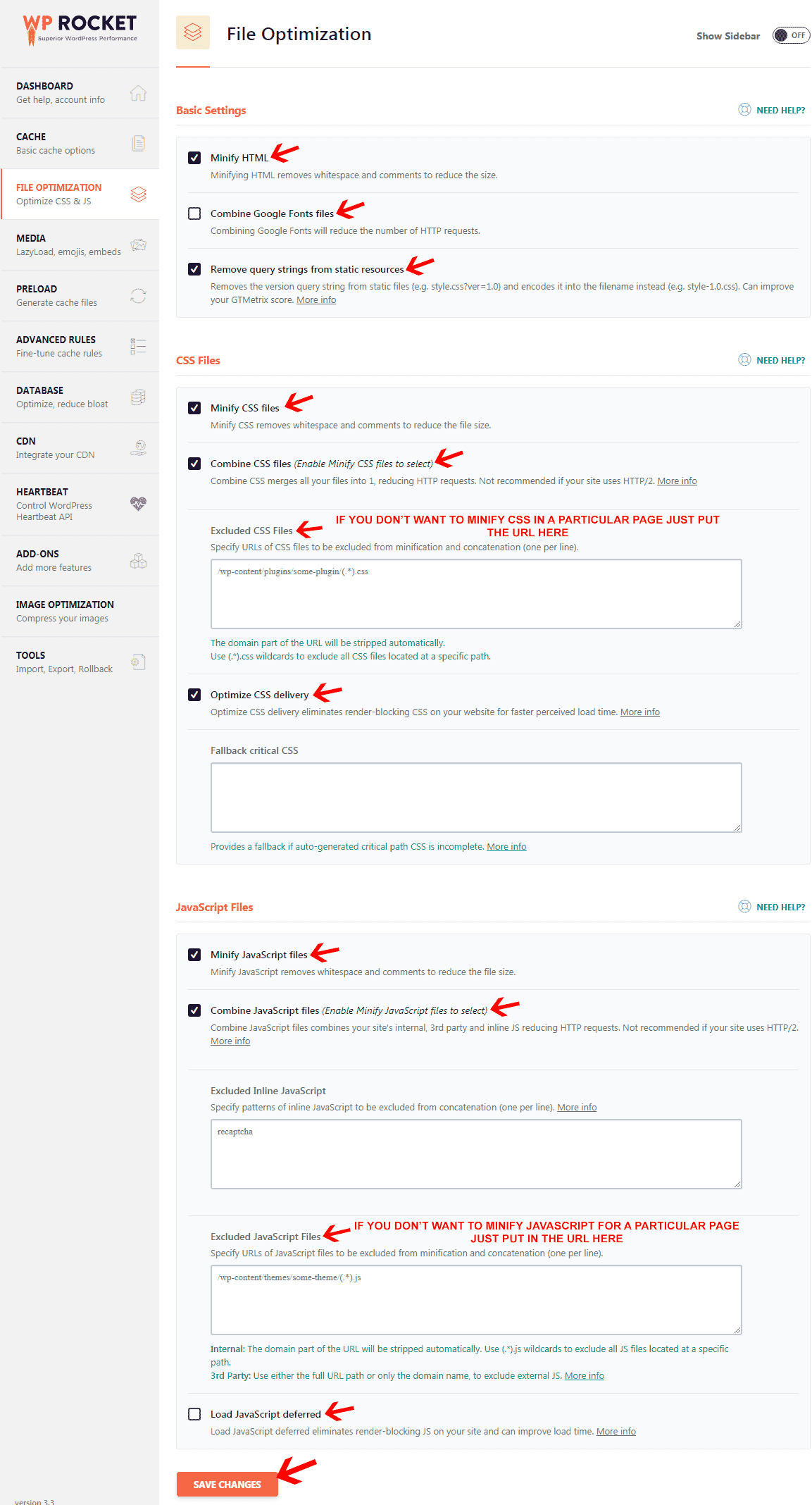 Minify HTML – You should enable this option as it will minify the HTML files of your website and reduce the size of your HTML files.
Combine Google fonts files – If you are using two or more google fonts on your website then you should enable this option. It will help you to reduce the HTTP requests.
Remove query strings from static resources – This will help you to improve the score in GTMetrix by removing the version query string from static files.
Minify CSS files – It will minify all the CSS files and reduce the size of those files.
Combine CSS files – This will merge all the CSS files into one and it will reduce the HTTP request.
Optimize CSS delivery – It will eliminate the render blocking CSS for faster speed of the website.
Minify Javascript files – This option will minify the javascript files and compress the size of the files.
Combine Javascript files – This will combine the javascript files into one file and reduce the HTTP request.
Exclude inline Javascript – If you want to exclude any inline javascript from minification and combine then you can do it from here.
Excluded Javascript files – If you want to disable javascript optimization for a particular page then paste the URL of the page and that page will be excluded from optimization.
Load Javascript deferred – It will eliminate the render blocking javascript on your website.
Remember, while you're doing the file optimization look if your site is broken or not. If your site is broken from any optimization then try to disable those options.
Now move into the next setting which is Media.
Media Optimization:
Most of the time a site loads slowly because of images or videos. You have to optimize your images and videos to make your website load faster.
No other cache plugin gives media optimization option and that's why I said earlier in the article that "It is not just a cache plugin it is an overall speed booster".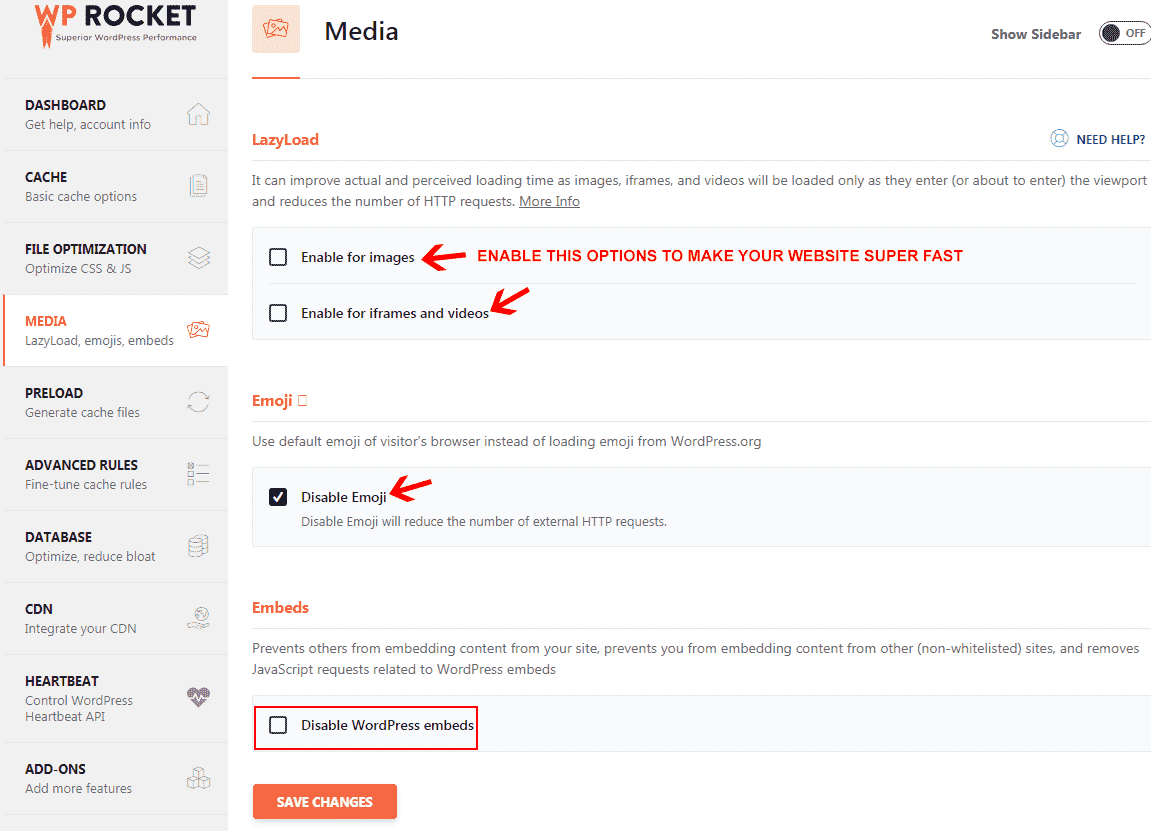 Lazyload for images, iframes and videos – It will improve the loading time as the image will be loaded when the user scroll down to the image point.
Disable Emoji – Disable emoji to reduce the HTTP requests.
Disable WordPress embeds – If you want to disable WordPress embeds then you can do it just by tick marking on that box.
After you enable all the options now, click on save changes.
The moment you enable media option you'll assume that your site will load much faster.
Now let's dive into the fourth option
Preload: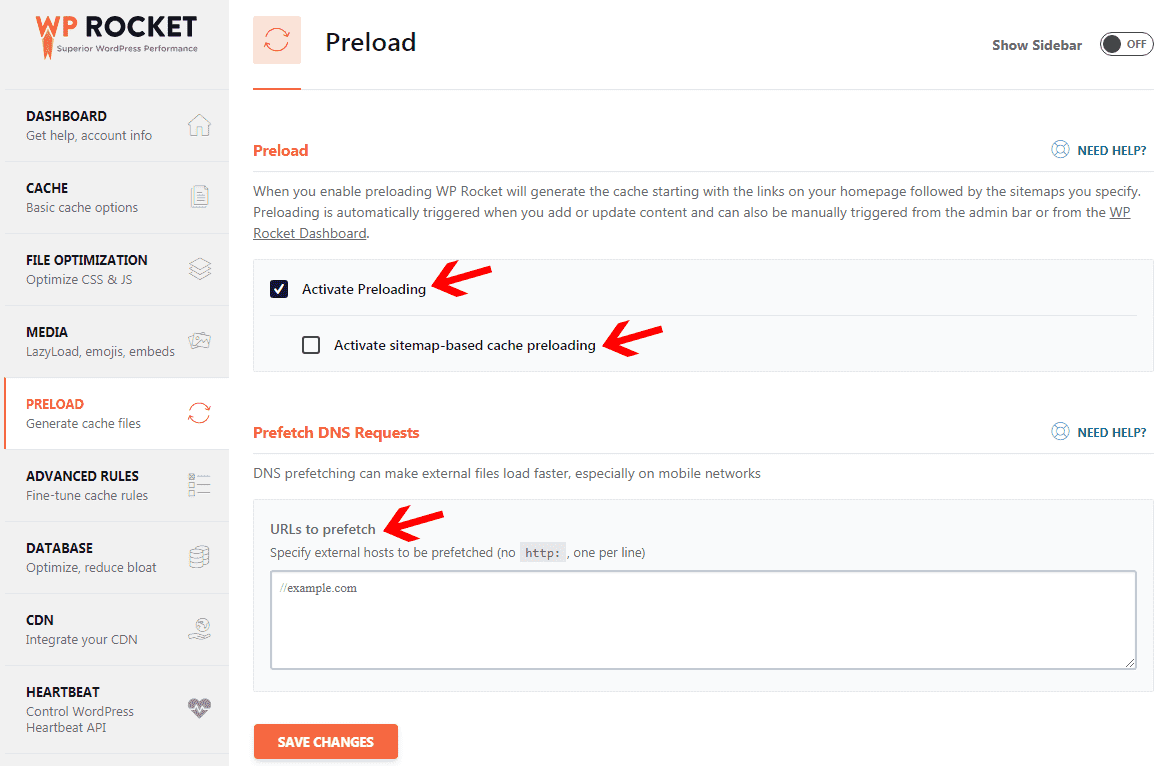 Active preloading – You can enable preloading for better performance.
Prefetch DNS requests – It will make external files load fast. You can skip this part as it is not that much important.
Let's jump to the fifth option which is Advance rules.
Advance Rules:
Never cache URL(s) – If you don't want to create a cache for any particular page just put the URL of that page here and that particular page will be excluded from your cache file.
Never Cache cookies – If you want to exclude any cookies from cache just specify the Id of that cookies.
Never cache user agent – You can also disable cache for a specific user agent.
Always purge URL(s) – Put any specific URL which you want to purge when any you update any page or post on your website.
Cache query strings – You can specify any query strings for caching. You can avoid this as its not that much important.
Advanced rules are not that much important so, you can also skip this part if you don't want.
Database: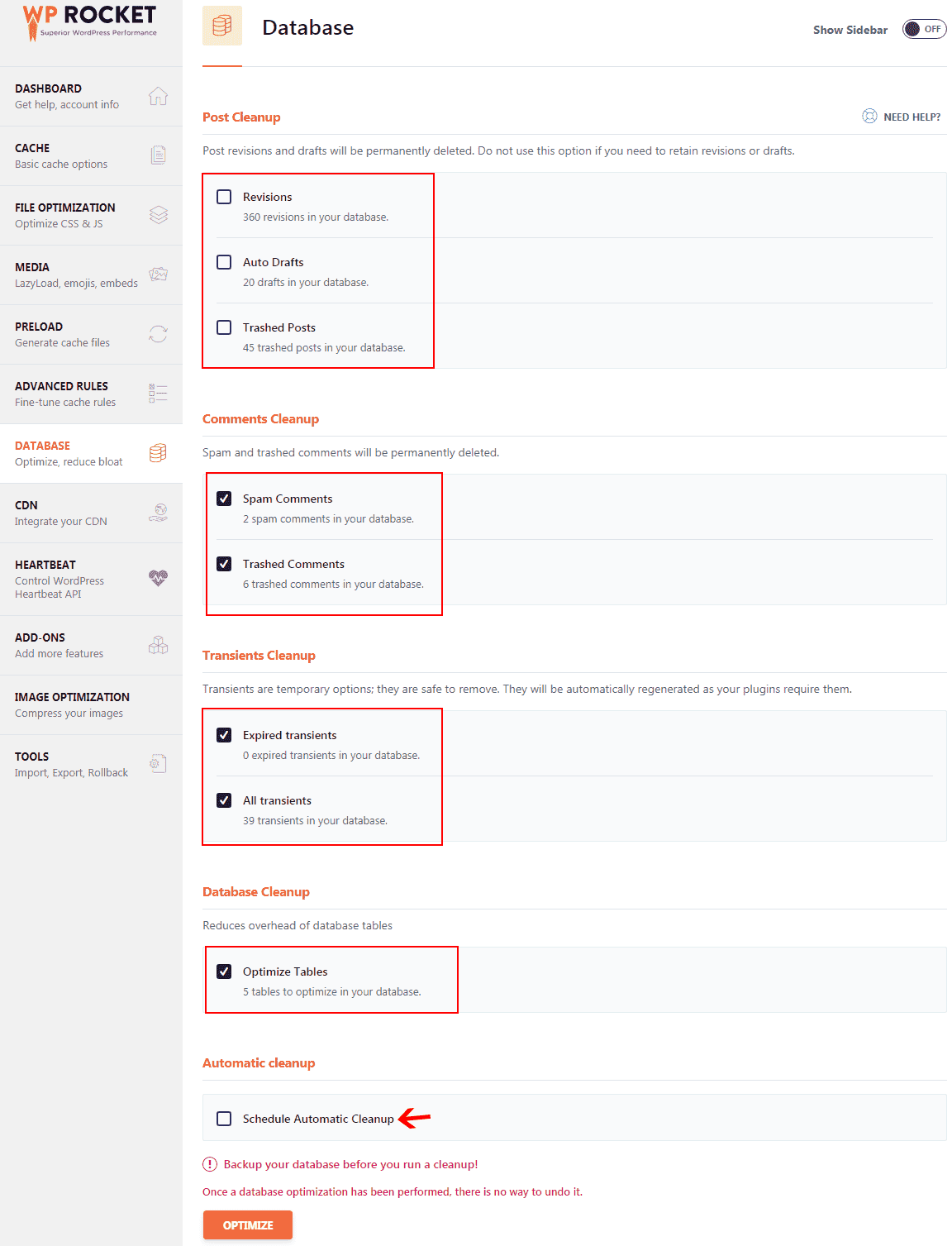 Post cleanup – Cleanup your revisions, auto drafts and trashed posts. But before clearing auto draft make sure that you don't have any important post in draft.
Comment Cleanup – Cleanup the spam and trashed comments on your site.
Transients Cleanup – You can remove the temporary transients but they will automatically generate again as your plugins require them.
Optimize table – Optimize the tables in your database.
Schedule automatic cleanup – You can schedule an automatic cleanup for your database. But, I would recommend you to do it manually.
CDN (Content delivery network):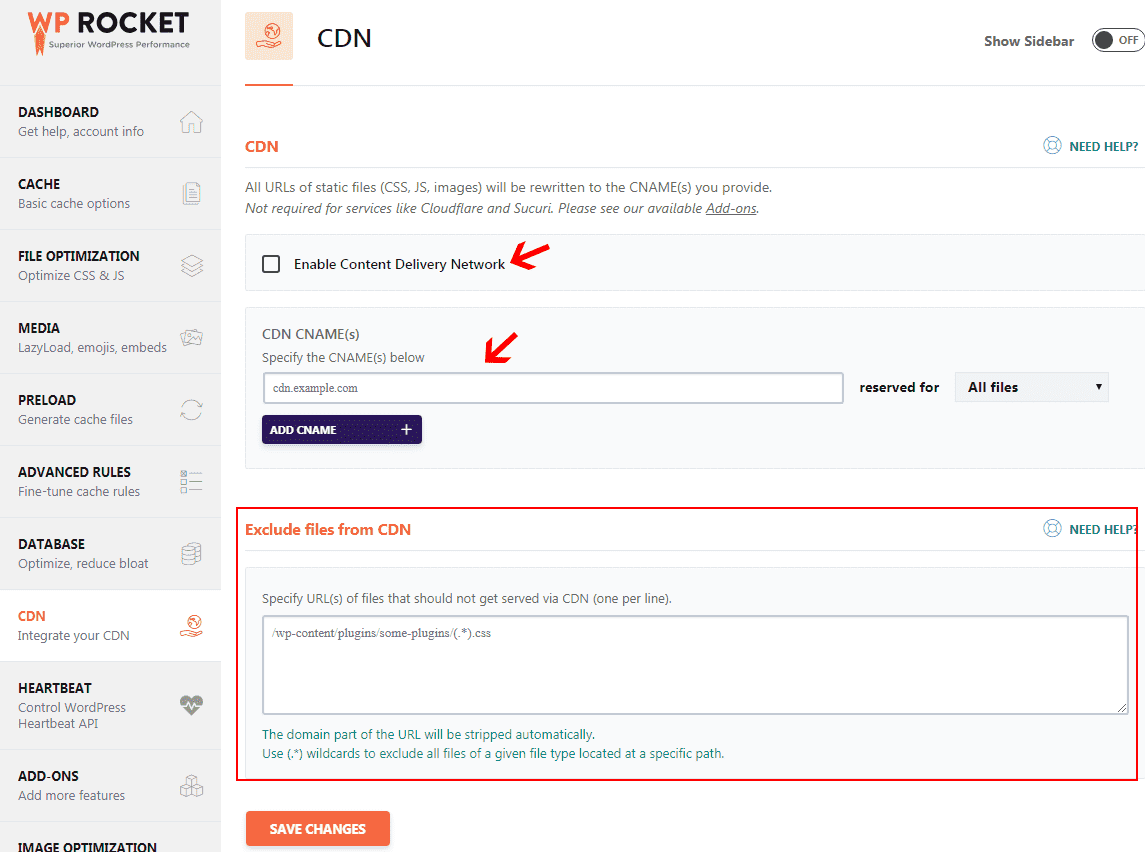 Enable content delivery network – If you're using any content delivery network then enable the content delivery network and connect your CDN with WP Rocket.
Exclude files from CDN – You can also exclude any file from CDN.
Heartbeat: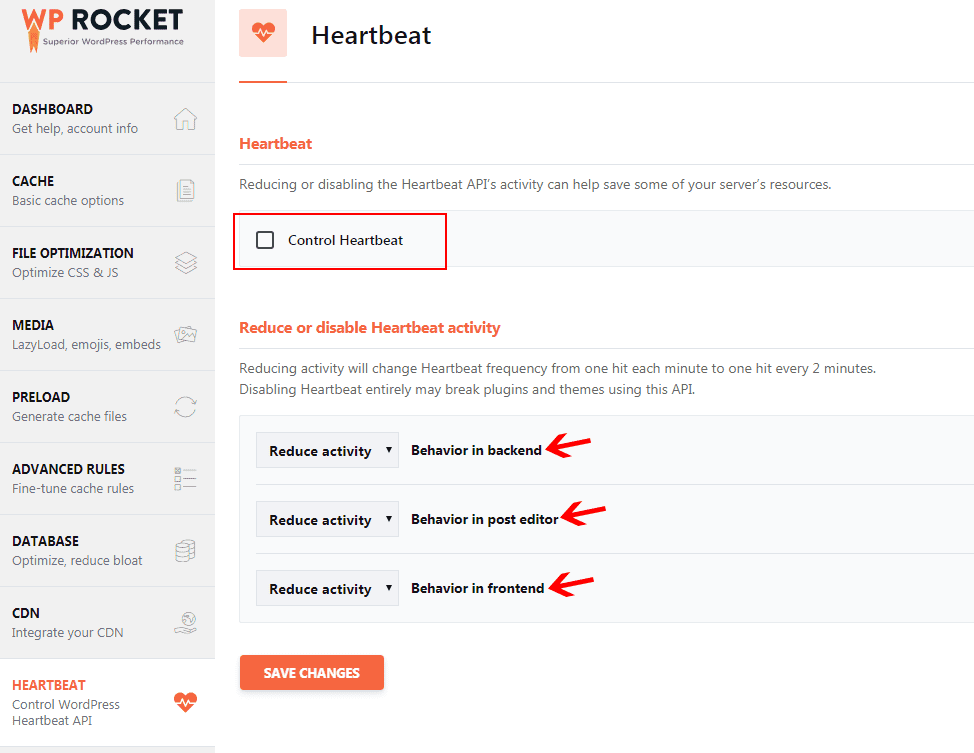 Control heartbeat – If your admin dashboard is getting slow then you can enable this option to make your admin panel faster.
Reduce or disable heartbeat activity – You can reduce heartbeat frequency here. Avoid this setting if you don't need this.
You can also import and export settings from other plugins.
So, now you've understood all the important settings of WP Rocket and also learned how you can configure it with your website.
You don't have to enable all the features, you just need to enable the features which are important for your website.
Pricing of WP Rocket Plugin
Let's talk about the Cost of WP Rocket.
WP Rocket has three types of licence Single, plus and Infinite.
You can buy a single licence for $49 if you have one website. But, if you have more then one website you can buy the plus licence at $99 for three websites.
If you are a running a web development company or you create websites for clients then you can buy the infinity version for $249 which you can use in unlimited websites. Without buying a single licence for each client, you can buy the infinity licence as this will save you lots of money.
Plus you'll get 1 year of free support and updates with each license.
The prices of this plugin are quite reasonable if you are really serious about your website loading speed. This plugin is far better than the free cache plugins out there.
In case, if you don't like the plugin after purchasing it, you'll get the 100% refund under 14 days of purchasing.
Trust me it's really worth spending money to improve website speed.
Fast Support with Full Documentation
Getting problems with the plugin?
Don't worry you don't have to waste your time looking for solutions on videos and different blogs.
WP Rocket support team is always there for you to help you out with your problems. You just have to submit your ticket and describe your problem, they will reach out to you to solve your problem.
Remember that they only operate on weekdays and the support system is closed on Sunday.
Still, they have created full documentation of the WP Rocket plugin to help you out with installation and other common problems.
Pros
It's super easy to Configure
Amazing Support system
Besides cache, it has all the features which can speed up your websites like lazy load and database optimization.
One of the most famous cache plugin
It automatically detects and applies the best settings for you at the time you install the plugin
It has 14 days money back guarantee if you don't like the product.
Cons
It's a paid plugin.
Features like advanced rules, prefetch DNS requests can be a little overwhelming for you if you're not a developer. Still, it doesn't make a difference on your site speed if you don't enable this.
Conclusion of this WP Rocket Review
Overall WP Rocket is not just a cache plugin it's a speed booster loaded with the options which can speed up your site.
If you compare WP-Rocket with other free cache plugins you'll see that WP Rocket is way better then other free cache plugins.
Website speed is really important in terms of search engine ranking and user experience. So, it worth spending a few dollars to make your site faster.
I've been using this plugin and I'm really impressed with the support and performance with this plugin.
If you have any question regarding WP-Rocket plugin feel free to ask in the comment section below.

Summary
WP Rocket is the best WordPress cache plugin. It's super easy to use. Some of the features like lazy load, database optimization, Separate cache for mobile devices and minification can speed up your website.