Are you looking for new high pr social bookmarking sites?
Then you're in the right place.
Social bookmarking is one of the best SEO technique I've ever heard.
Why?
Because it helps me to get quality backlinks to my site and also increase social reach.
But, most importantly it's super easy to do.
Okay, I'll make it more easy for you. In this article, I will share with you some of the top high pr social bookmarking sites where you can start doing your social bookmarking.
What is Social Bookmarking in SEO?
Social bookmarking refers to bookmarking any web page to any social bookmarking site. It is one of the easiest off page SEO technique. It just does not create quality backlink, it also helps to build social reach.
You can increase your website's PR (Page rank) by submitting your site to high PR social bookmarking sites.
Here Are Some Benefits of Social Bookmarking:
It provides natural backlinks which help to rank higher on google.
You'll get free targeted traffic to your site.
Increase the popularity of the website.
Helps to increase the social reach.
Is Social Bookmarking Still Works In 2019?
Yes!! Definitely, it works.
Social signal is an important factor for search engine ranking. Social signals help to identify google that your brand is popular and talked by people which helps to increase the google ranking.
Neil Patel writes an awesome article on how branding helps in google search ranking.
How to Do Social Bookmarking In a Right Way
Social bookmarking is useless if you don't do it in the right way.
But don't worry, I will show you step by step how you can do social bookmarking to increase your reach
Okay, let's get started.
Firstly head over to any of the top social bookmarking site. Here I'm taking mix.com as an example.
After then sign for the website and complete your profile. Fill up all the information like Full name, email, bio, gender, website and so on.
Remember that, always complete your profile to 100% because you'll gonna get much exposure and it will look spammy if you don't complete your profile.
Now, click on the little plus sign on the corner.
Then paste the link of your web page and hit "Post".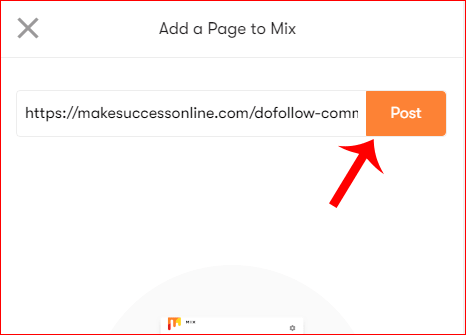 Then select any category or you can also create a category related to your webpage and click on "Done".
And boom you're all done!
Also Read:- High pr directory submission sites list
List Of Top 10 Social Bookmarking Sites
Twitter is a very popular social network site. They have almost 325 million active users worldwide. When you share any link of your web page that bookmarked into the Twitter website.
Beside bookmarking, it is also a great tool to communicate with your readers and to reach more potential customers.
It is my favourite social bookmarking site.
Pinterest is a photo sharing social networking site. Over 250 million users use Pinterest every day and half of them are from the US.
But the question is what makes Pinterest different from other photo sharing social media sites?
Well, you can share your web page link in every photo you share and that makes it different from other sites like Instagram.
And besides bookmarking, Pinterest can drive huge traffic to your site.
With over 330 million monthly active users, Reddit is one of the popular site for social bookmarking. I personally saw a good amount of jump in traffic when I started Reddit.
Not just me, many big bloggers and marketers also suggested Reddit as one of the best social site for bookmarking.
It was started in 2007 by Nate Weiner. You can bookmark or save content like videos, web pages, stories from all around the internet.
Pocket has over 30 million users worldwide. Bookmarking on pocket will help you to get high search ranking in google as pocket has really high authority.
Scoop.it is an online content sharing site where you can share your content and bookmark them. More than 4 million users publish content on scoop.it.
It the best platform to bookmark your content and also get potential traffic at the same time.
It is also a content sharing platform where people bookmark and share their content such as videos, articles, etc. Digg has 6 million active users.
You can bookmark your content on Digg for a good backlink and some referral traffic.
It was founded in 1997 by Rob Malda. Slashdot is basically a story sharing platform where you can bookmark your article.
It is a really old website so, getting a link from this site can be really beneficial for you.
Diigo is a bookmarking site where you can bookmark anything from all around the web. It was started in 2005.
The DA (Domain authority) of this website is 89 which is really high and bookmarking your web page into this site can be really good for your SEO.
I personally use the mix to bookmark my web page and it also gives me instant traffic.
Don't believe me?
Then try it once!
It is a really simple and awesome site to bookmark your web page or article and get some instant traffic.
Weheartit is similar to Pinterest. Where people share articles, images, videos etc. Weheartit has over 45 million users.
You can bookmark your article and web page in Weheartit for more exposure and traffic.
Also read:- Top dofollow commentluv blog list for backlink
Top High PR Social Bookmarking Sites List
| Sr No. | Social Bookmarking Sites |
| --- | --- |
| 1 | www.minds.com |
| 2 | www.bookmark4you.com |
| 3 | www.bizsugar.com |
| 4 | www.minds.com |
| 5 | bookmarkbook.org |
| 6 | www.fearsteve.com |
| 7 | twitter.com |
| 8 | pinterest.com |
| 9 | www.reddit.com |
| 10 | getpocket.com |
| 11 | www.ezyspot.com |
| 12 | scoophot.com |
| 13 | www.bibsonomy.org |
| 14 | www.blokube.com |
| 15 | moretreat.com |
| 16 | bookmarkingbase.com |
| 17 | www.mbacklinks.com |
| 18 | flipboard.com |
| 19 | www.diigo.com |
| 20 | www.scoop.it |
| 21 | slashdot.org |
| 22 | mix.com |
| 23 | www.plurk.com |
| 24 | myspace.com |
| 25 | digg.com |
| 26 | weheartit.com |
| 27 | www.fark.com |
| 28 | dzone.com |
| 29 | www.bookmarkwiki.com |
| 30 | yoomark.com |
| 31 | www.updatesee.com |
Also read:- High da article submission sites
So, these are the free social bookmarking sites with high PR where you can bookmark your website or web page.
Did you find this social bookmarking sites list helpful? do you have any other new social bookmarking sites which you want to include in this list? Do let me know your thoughts and suggestions in the comment section below.
Free Dofollow social bookmarking sites list

New social bookmarking sites list
Summary
Social bookmarking is an awesome SEO technique. You can submit your website's article link into this top social bookmarking sites for higher ranking in google