I often tell you that a good hosting is the backbone of the website.
Fast and reliable hosting is most important if you want to improve your website speed.
And when it's come to website speed Kinsta is the best option for you.
Why?
We'll find out in this in-depth Kinsta hosting review.
About Kinsta Hosting
Kinsta was founded in 2013 and until now they have gained a good reputation in the hosting market. They are one of the leading managed hosting providers.
Kinsta hosting is based on cutting edge technology and their main focus is speed, security and stability.
Through their hosting packages starts from $30 a month but I would say still it's worth for money.
Because manage WordPress hosting is not at all cheap.
Your WordPress website will be much faster and secure if you choose kinsta hosting over other cheap hosting providers.
And the best thing I love about kinsta is
They are combined with Google could and Your website will be hosted on google cloud which will make your website super fast.
You can also choose the data centers for your WordPress site from the 19 google cloud's data centers.
For example:
If most of your visitors are from the USA and if you host your website on the USA data center then your website will load much faster in USA.
Not just speed, they also have more amazing features which makes them the king of manage WordPress hosting segment.
Okay, Let's explore the features of kinsta hosting one by one.
Features of Kinsta Managed WordPress Hosting
Hosting is a backbone for any website and you have to choose it very carefully.
But how would you choose hosting for your website?
Probably looking at the features and reading reviews.
Right?
However, some people don't look at these things and buy the hosting right away which is really bad.
You have to see all the features and reviews of that hosting providers and then you have to choose the plan according to your website need.
So, following these rule, I'll explain to you all the features that kinsta hosting provides and we will also see how that features will help to improve your website performance.
1. Speed obsessive architecture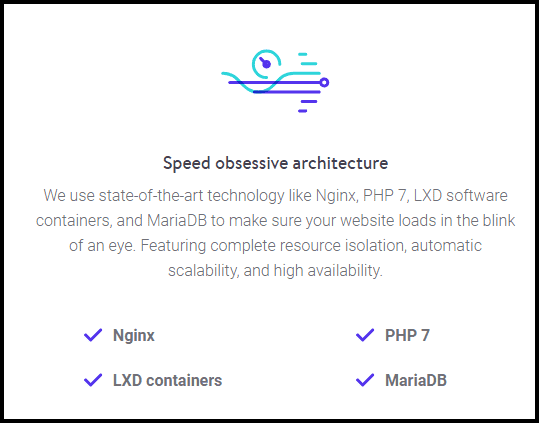 I'm sure that, you know how much website speed is important for better user experience and search engine ranking.
In fact, page speed is one of the important ranking factors in mobile devices.
Besides a good theme and cache plugin, the most important thing that helps to improves website speed is a fast and reliable hosting service.
Kinsta uses state of art technology to like Nginx, PHP 7, LXD containers, and MariaDB which makes website loads very fast.
The main focus of kinsta is to provide high speed hosting to its users without any downtime.
And, speed is the main reason why kinsta is the best WordPress managed hosting provider.
2. High Security for Your Website
Security is the first priority.
What if you build a site and someone hacks it!
All your hard work, money and precious time will go in waste.
Before launching your website, secure your website
So, you have to make sure that your website's security is top notch.
Yes, you can use WordPress plugins to secure your site but the hosting security is most important if you want to secure your site.
Kinsta pays close attention to security. They continuously monitor the sites for uptime, DDoS attack detection, hardware firewalls and SSL support. Thus, it makes the sites very secure from hacking activities.
3. Free Website Migration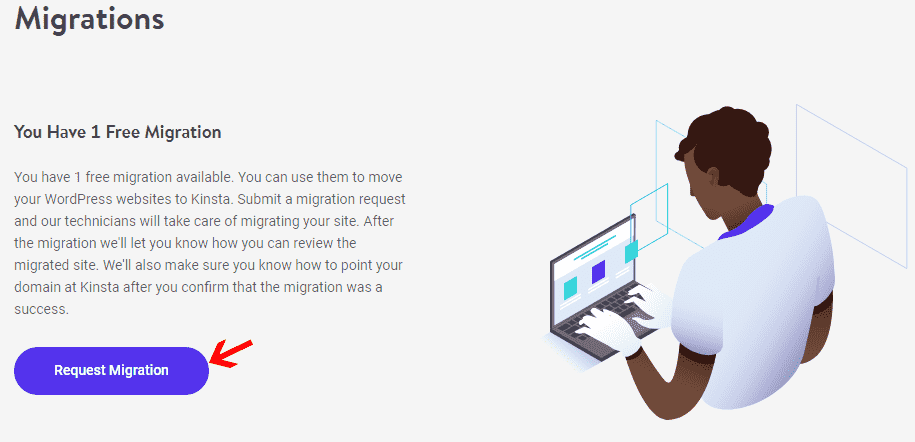 Migrating websites from one host to another is really a headache.
I know that pain because I got totally frustrated when I changed my web hosting for the first time and migrate my website.
Because of the high migration charges, I decided to do it on my own.
I watched lots of videos and read articles to migrate my website.
Trust me, it's really time-consuming.
But, kinsta makes it easier for you.
Yeah, you're right!
You don't have to go through that frustration that I've experienced.
The talented engineers from kinsta will migrate your website without any Cost.
It's totally free!
If you are planning to buy hosting from kinsta then you don't have to worry about migrating your website.
You just have to put a request for your free migration and they will migrate your website from your previous hosting without any downtime.
4. Daily Backup of Website
Backup is really important.
Kinsta provides daily backup for free. They will backup your website once in a day daily and store them.
So, if any technical problem happens on your website you can install the backup of your website with just one click.
And also you don't have to use a free or premium plugin to backup your website.
It will save a lot of your time and also money.
5. Expert Support 24/7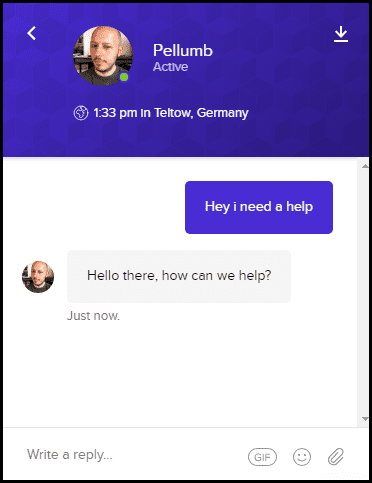 If anyone asks me what you look on a hosting provider before buying it besides speed?
I would say "Support".
No matter how much features a hosting provider have but, if they don't have good support then no one is gonna stay with that provider for long.
Kinsta knows the value of support so, that's why they created an expert team to help you with all your problem and queries.
If you have any problem, you just need to send them a quick message via their live chat and they will respond back and solve your problem within a few minutes.
For example:
When I started using kinsta, I have an issue with my SSL so, I quick message them about my issue and they solve my problem within 5 minutes.
Their support is really friendly and they have a 100% solve rate. Every issue will be solved as quick as possible.
6. Amazing and Easy to Use Dashboard
I have used lot's of web hostings but the dashboard here in kinsta is really amazing and beginner friendly.
Even if you're an absolute beginner I'm damn sure you can use it very easily.
They keep their dashboard very simple so that everyone can understand it very easily.
7. Free SSL Certificate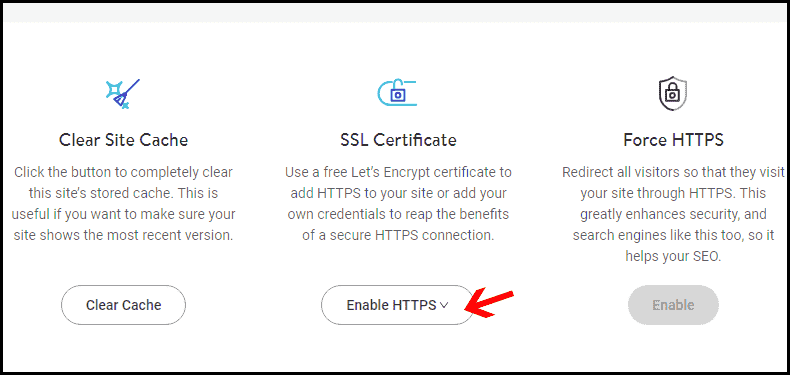 SSL certificate is really important for a website.
In fact, a secure website is one of the ranking factors for Google.
If you buy an SSL certificate for your website it will cost you around $50 but Kinsta will give it to you for free if you buy their plans.
And, it's super easy to set up and enables SSL on your site. You could even contact support and they will enable the SSL on your website.
8. WordPress Staging Site
If you purchase Kinsta hosting you'll get access to the staging site. You'll get this feature with all the kinsta plans.
With the staging site, you can make changes to your website in a testing mode and if you are happy with the changes you can make it live.
Because if you make changes in the live website it will harm the user experience and also break your website.
So, it's better to make changes on a copy website and then if you are happy with the changes then you can make it live.
If you are moving to any hosting provider then you need to make sure that the hosting has staging feature.
And the best part is you'll get this feature in kinsta hosting.
9. Inbuilt Cache System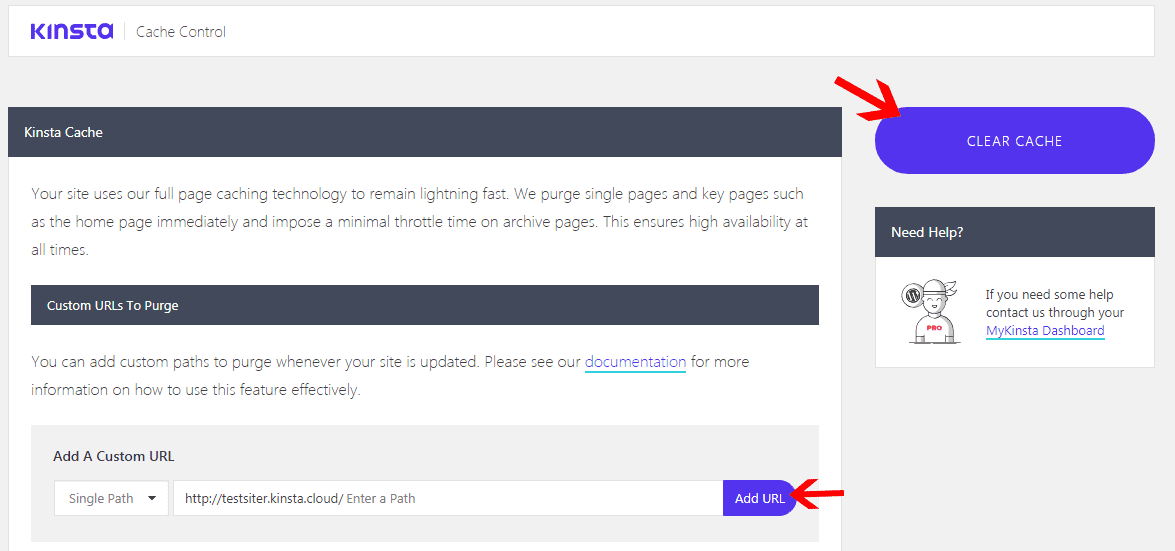 Kinsta hosting provides an inbuilt cache system with your hosting.
They use full page cache technology to make your website super fast. They purge single pages and important pages For example, the home page immediately and impose a minimal throttle time on unimportant pages.
You can also purge a custom URL if you want.
This cache system comes with all the plans.
Kinsta Hosting Pricing
Till now, you have understood the features of this hosting and why you should use this on your WordPress website.
Now, let's talk about pricing.
The minimum package of kinsta hosting starts from $30/month which is a bit expensive but if you look out the prices of other managed WordPress hosting providers then I would say $30/month is not at all expensive.
If you are making money from your website or you are really serious about your website then it's worth spending money on good hosting.
I personally believe it's a good investment to spend money on good hosting.
Okay, now let's see the prices of Kinsta hosting:
They have 10 kinds of plans for small to big websites.
Starter Plan

– This plan costs $30/month. In this plan, you can install 1 WordPress website, 20,000 visits, 5GB disk space and free SSL and CDN included.

Pro Plan

– This plan costs $60/month. In this plan, you can install 2 WordPress website, 40,000 visits, 10GB disk space and free SSL and CDN included.

Business Plan 

– They have 4 kinds of business plan.
Enterprise Plans

– They also have 4 kinds of enterprise plans.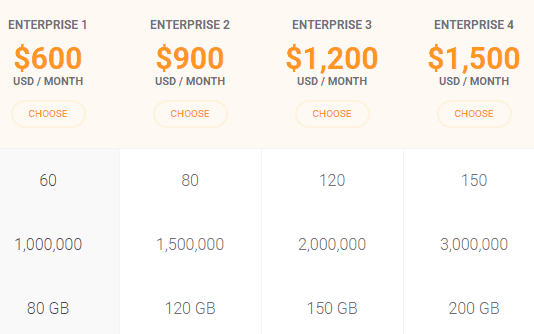 You can choose any of these plans according to your website visits and your need. But, if you are a brand new website then you can choose the starter pack.
You can also upgrade your plan in future when your website starts getting traffic.
Pros
Really fast hosting provider
Free website migration
Free SSL certificate
24/7 friendly support
Staging site feature
High security
Cons
The price is a little expensive but it's worth for money
Conclusion Of this Kinsta Hosting review
Well, kinsta hosting is my personal favourite. If you are searching for a high-speed hosting provider then you can definitely try out kinsta hosting.
There is no doubt that they are one of the best managed WordPress hosting providers. I'm really impressed with the speed and performance of this hosting after using it.
I know it's little expensive then shared hosting but if you are running a business online or you are making money from your website then you can't rely on shared hosting.
Overall Kinsta managed WordPress hosting is worth for money and you'll never get disappointed after using this hosting.
Are you using kinsta hosting? Do you have any question regarding this kinsta hosting review? Feel free to share your experience or opinion in the comment section below.
Kinsta Hosting

$30 - $1,500
Summary
Kinsta is a really fast premium hosting provider. They are combined with Google could and they host websites on google cloud thus it makes the websites really fast.